"I intend to make broadcasting of council meetings a statutory requirement."
(Mark Drakeford, Cabinet Secretary for Finance and Local Government)
This statement revealed the government's plans to strength the Welsh Government incentive to get councils webcasting.
In 2017, there are lots inexpensive ways to stream video. Facebook Live, Periscope and YouTube can all help meet this statutory requirement. They can be used to demonstrate transparent decision-making in a cost-effective way. However, there are risks involved in using a DIY approach and benefits to partnering with a live streaming supplier. Here are 5 big advantages of webcast providers:
#1. Keeping content in context
It would be naïve to say there's no way of tampering with video, especially when it's publicly available. However, using webcast providers to host your content gives you more control. Our share functionality doesn't clip the video, so that it can't be taken out of context. As part of our service there's also an on-demand library of meetings. This means you've got a digital catalogue to refer to. Furthermore, it's publicly available.
#2. Better navigation and understanding
Facebook Live and Periscope are great tools to record short videos on-the-go. However, in lengthy meetings, without breaks, poor production values can become a hindrance. Instead, longer videos should be indexed so viewers can skip quickly to the right agenda. Even on YouTube this task proves difficult unless you split the meeting into separate videos. This can be a lengthy process for staff though. Our solution has an interactive timeline allowing viewers to skip to a relevant point of interest with ease.
Welsh councils can also webcast in dual language with Public-i. Viewers can get a better understanding of meetings with the ability to toggle between a language that's suits them.
#3. Video vs. audio
Language and audio are obviously important. However, a recent report shows a staggering 85% of Facebook videos are watched without sound. Broadcasting audio may be enough to "tick a box" in terms of statutory requirements (and we can provide this). However, video seems to be essential if you want to truly engage your audience.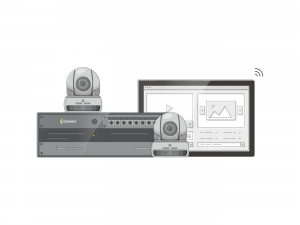 #4. Scalable services
How can you engage residents with less resource? Councils are having to look at different ways to deliver – we've tried to adapt accordingly.  Our flagship Connect software is now available on Windows running laptops and tablets as a software only solution. Our pricing has also changed so that councils can top-up on a pay-as-you-go basis – only paying for the hours they use.
#5. Third-party integration
Working with webcast providers can mean better integration with tools you use regularly. Our developers have completed work to synchronise our Connect webcasting software with Modern.Gov and CMIS committee management systems. So instead of your member of staff trawling through hours of footage before uploading to YouTube, Public-i will do this for you. Video will be auto-archived, along with agendas, minutes and speaker profiles – unavailable to viewers otherwise.
As a supplier of audio visual hardware, we've developed our live streaming services in line with audio conferencing systems. We've released lots of exclusive features like live voting integration. This allows results to appear live, directly from the microphone. Our SpaceManager software can also display real time votes onto projector screens inside the Chamber.

#6. Saving staff resource
Our webcasting software works with all leading AV systems to automate camera movement. Cameras will pan automatically to the relevant speaker as soon as the microphone has been activated. This means you don't need to provide staff to operate the webcast – saving council time and resource. You also have a best shot option (a choice of two) per speaker so the camera won't cut to different speakers in a dizzying fashion. Instead the camera will intuitively choose the most appropriate shot.
#7. Support and influence
Technology can be unpredictable and with time and resource being an issue, you need to know the system is going to work. You're not alone with webcast providers. Our trained technicians test every single webcast with council officers before going live. We're also there on the phone or instant messenger during every meeting if you need us. Importantly, we'll give you access to our regional user groups where you can share your experiences of webcasting with our other councils and have a direct influence on our development roadmap.
If you'd like to find out more and see if we can help, why not give us a call: 01273 821 282. Alternatively send us an email at: info@public-i.info.