Audio visual supplies need supporting
As a system integrator, good audio visual supplies are important to us.  Being a webcast provider since 2000, we've spoken to many clients who've struggled with their technical infrastructure.
The problem seems to be a lack of resource with too many suppliers to speak to. Then it clicked. For us to provide the best meeting experience, we need to support all aspects of the room.
We realised that with so many years installing and integrating systems – not to mention running hundreds of events – we had the expertise to do it.
After an invitation to provide audio visual supplies for a meeting room in February 2016 – AV Additions was born.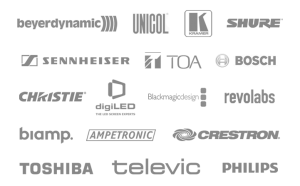 Our suppliers and manufacturers have been fantastic and have brought real value to the service, whilst ensuring our commercial position within the market remains competitive.
AV Additions has now delivered several successful and varied projects, illustrating our ability to provide a range of reliable solutions.
Please speak into the microphone
Every case is unique and AV Additions are here to listen and advise. We don't want to force you into an audio system – it's about finding you the right solution.
Whether you need a handheld mic, additional screen for your digital signage, a discussion system or even help with design, we work to source the best solution for your budget and timescale.

AV Additions act as a dynamic intermediary between manufacturers and customers. The team can turn around projects at short notice and we'll be with you every step of the way.
A history of better meetings
Public-i is a specialist integrator with a wealth of experience in streaming and AV technologies. We're made up of a blend of technological and creative experts with a total of 16 years of experience in the industry.
We can cater for small and large spaces, conference rooms, huddle spaces and auditoriums.
Looking to improve your meeting space? Want to get more from your audio-visual systems? Get in touch, we're happy to help: 01273 821 282 / info@public-i.info