As a live streaming supplier, we've been developing portable webcasting for years. However, it's never felt more necessary than now. With the cost of offices increasing steadily every year, space is becoming precious. Intelligent office design, technology and innovative thinking are key factors when making spaces more efficient.
Thinking outside the box
Businesses in London are especially feeling the pinch. The average rent in the City of London raised from an average of £67 in 2016 to £72.50 in 2017 (sq ft per annum). Consequently, forcing companies to explore new ways of working.
CBRE recently concluded from their European Occupier Survey:
"The focus is now on the tools needed to support flexible working and these have a strong technology element: virtual desktop and video conferencing have seen large increases in popularity since last year."
Many companies have also adopted flexible working environments, changing the way offices are furnished. Traditional desks and pedestals are being replaced with hot desks and staff lockers – transforming the way we work.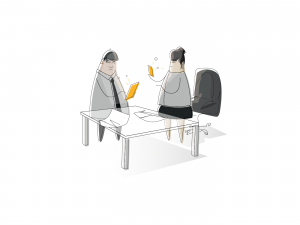 Furthermore, a key component to flexible working environments are Huddle Spaces. These are small conferencing areas, often equipped with audio and visual technology. Huddle spaces are excellent for ad-hoc meetings and collaborative sessions. A lot of organisations are also allowing staff to be more flexible with their hours and where they work them.  This makes sense when trying to be more economical with your space.
Unfortunately, Huddle spaces can't replace formal meeting rooms. They simply aren't designed to accommodate larger numbers, e.g. if the entire company is required to attend a meeting.
Besides, what if several people are working elsewhere on the day of the company-wide meeting? How do you keep your employees informed and involved?
Host and particpate – from anywhere
We've thought a lot about this. Connect Anywhere is a versatile live streaming solution for meetings. The portable webcasting software is available for download and can be topped up with pay-as-you-go hours.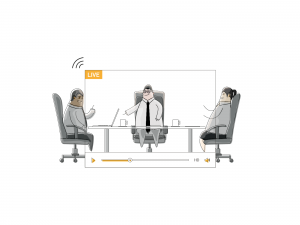 All you need is a Windows running laptop or tablet and an internet connection (or 4G). Now flexible workers can watch the meeting live and even ask questions through the built-in chat feature.
If staff can't watch live, they can catch it on demand via the archive. No follow up emails needed.
Portable webcasting is a simple, reliable and affordable tool to elevate your meeting experience.
Interested in learning more about the benefits of Connect Anywhere? Do you have any ideas for our develpment roadmap? We'd love to hear from you.
Contact us: 01273 821 282 / info@public-i.info