Now standstill is over, we're pleased to announce our availability on G-Cloud 9.
This means buyers can continue to purchase our webcasting services directly through the Digital Marketplace (we were first awarded supplier status in 2014). Great news, considering the improvements made to the framework this time.
G-cloud growing pains
So, G Cloud usage has been relatively disappointing to date. "Up In The Air: The State of Cloud Adoption in Local Government in 2016" polled over 400 Welsh, Scottish and English authorities about the framework. The study showed only one in three councils had a procurement policy allowing G-Cloud. Even 21 of the biggest councils said they "could not use the framework".
G-Cloud 9 could persuade procurement teams. Here are 5 reasons to consider the framework:
#1. Contract extensions after 2 years
Contracts will now be extended past the 2-year contract limit. For the first time, buyers can extend for two 12-month periods (with Government Digital Service approval). This is good news for many local authorities who budget for 2-5 year periods.
#2. Simple shortlist process
Using G-Cloud 9 is a quick and efficient. Furthermore, due diligence on suppliers has already been carried out. G-Cloud 9 gives you access to a competitive market without long and costly procurement. Buyers can run a search in the CloudStore on like-for-like suppliers and mark using the following: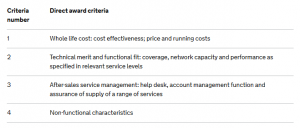 #3. G-Cloud 9 = software
G Cloud 9 offers our most competitively priced webcasting solution: Connect Anywhere. It's a software only solution, available for download on any Windows running device (laptop or tablet). This portable system allows you to top-up your streaming hours on a pay-as-you-go basis.
Anywhere has the same excellent user experience that viewers have come to expect from Connect. Watch a live example from Cheshire West and Chester Council here.
#4. Transparent pricing
Public sector buyers are working to a budget and need realistic costs. Fortunately, pricing inside the CloudStore is transparent and accurate. Buyers can compare webcasting and events pricing in the CloudStore with ease.

#5. Pre-agreed terms
Supplier terms are available with every product in the CloudStore.  Buyers can be review these before purchasing – removing lengthy legal negotiations. If there are contradictions between supplier terms and framework T&Cs, the latter will take precedence.
Stll can't satisfy procurement? Our live streaming services and audio visual solutions are also available via the Essex Procurement Hub.