We've spent a lot of time talking to clients about council meeting video engagement. Combined with social media, webcasting meetings can be a key part of your communications strategy. Way back in 2013 we looked at Bristol City Council and how they were using webcasting to attract massive viewership to planning meetings. Birmingham Council has been doing the same, drawing huge numbers to their webcasts. The Council has a massive profile on social media and use this to build viewership.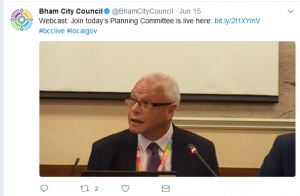 What if you're a smaller council and don't have the resource? We understand one size doesn't fit all in local government. Council meeting video engagement can be achieved in several other ways. In this post, we'll be looking at the methods to do so. Importantly, we'll also discuss how you can measure success.
Improving council meeting video engagement

The City of Edinburgh make it very easier for viewers to find webcasting listings on their website. It sounds obvious but making sure the meetings are easily accessible on your homepage makes a huge difference.
Some clients like Stockport Metropolitan Borough Council and Cornwall Council encourage a debates around the webcast by assigning a relevant #hashtag to each webcast.

It is also possible to schedule automatic tweets in the Admin area of your Connect webcasting site. These can alert your followers when a meeting has started or a specific agenda point is about to be discussed. This is a great way of driving engagement without using resource.

We have also improved our embed and share functionality – including deeper integration with Facebook. We've written more about this here.  If you have a greater following on Facebook than Twitter, sharing meetings on your Facebook page might be a better idea. You can even share specific agenda points.
Our embed functionality doesn't stop with the video. You can now embed the entire 'webcast library' or 'what's on' widget on to your Council homepage. If you need any help getting these handy tools set-up, feel free to drop our Service Desk a line.
Better statistics = greater insight
Now you've extended your reach, it's time to decipher the results. We've been trying to improve our stats area so that it works more like reporting tools we use every day, e.g. Google Analytics. We understand the strain on resource at councils. You don't need more than one tool doing the same job.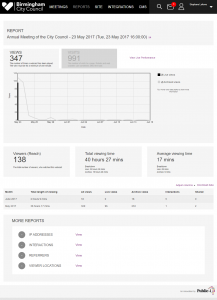 We've worked on cleaning up the interface so it's easier to understand. Here's a brief run-down of the other improvements:
The definition of "views": this now means people that have watched your webcast for more than a minute. Anything less would be defined as a bounce (like Google Analytics) and would be discounted. The hope is this will give you the truest statistics.
Per webcast report:  This graph shows your webcast performance over a certain period. It gives you a real snapshot of how many people watch live and how long viewers return to the archive.

More insight: You can understand where people are watching from by analysing the IP addresses. You can also find out what referrers are doing a good job of driving your viewership, e.g. local news sites.
How we'll make things easier
We have now released functionality to produce a monthly stats email to council administrators. This will save time by giving officers a summary of webcasting bookings and viewership. Consequently, this will negate the need to login to the admin area.
Our product development is driven by client feedback. If you would like to speak to our UX Designer or attend one of our seminars (the next being at Hambleton District Council on the the 19th July), get in touch.
Contact us on 01273 821 282 or info@public-i.info