General Election 2017 results
The general election 2017 results are in – it's a hung parliament. Where we go from here is anybody's guess, although the story is developing by the hour. Nevertheless, for the first time in a long time, we managed to engage young voters.
Last year, following the EU referendum, we asked if there was enough real information to inform the electorate? We discussed youth voter apathy and more dangerously – the rise in digital noise. Facebook puts filters on subjects a user doesn't 'like', not to mention the fact you generally 'follow' like-minded people.
Catherine Howe,  governor of the Democratic Society, said: "Our technology and the way in which we live our lives puts us in a filter bubble – we rarely put ourselves in a position where we encounter someone 'other'. This is a huge part of the problem."
It wasn't this time around.
How the youth were won
The election turnout for 18 to 24-year-olds was 66.4 per cent (Sky News data figures). This is a substantial rise from the 43 per cent figure in the 2015 general election.
Internet trends like #grime4corbyn were effective in engaging young voters through the channels they use.  Celebrities like JME, Lily Allen and Stormzy tried to inform the electorate to ignore the media and think for themselves.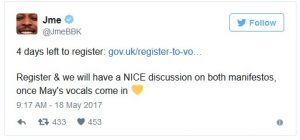 The power of video
Along with the usual suspects pushing agendas – for both sides, we had outlets like the NME actually engaging young readers in Q&A's. Importantly, they used video to reach the highest volume.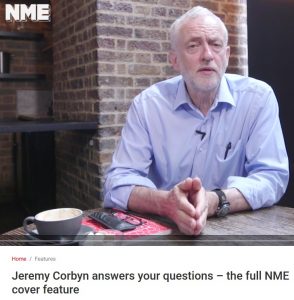 As we mentioned in our previous post, video is the most powerful tool we have in 2017 to truly engage and inform people online. Combine it with tools that people use every day such as Twitter and we have a real chance of encouraging a balanced democratic debate. We are working with clients such as Bristol City Council and Brighton and Hove City Council who use social media alongside live streaming to engage with constituents. Woking Borough Council actually used their webcasting infrastructure to live stream the count.
Whoever you voted for, it's reassuring to see that everyone is engaged.
Think webcasting can help you reach more people online? Why not give us a call on: 01273 821 282 or email us at: info@public-i.info.