Today, we have deployed the new version of our microsite and player. We're very proud as this is the product of many months of research and development. The main motivation for this new release is to provide the end viewers with an up to date interface and provide a high level of accessibility. As you may know all council websites need to abide by the new government regulations by September 2020.
We also wanted to include a few features to improve viewership by:
adding engagement tools that ensure better linking to social media and your council site
increasing participation through interactive messaging channels next to each webcast.
Here is a list of all the new features:
Look and feel:
New clean and accessible interface (improved readability: new font types and sizes and contrast ratio)
Updated header with more prominence for the search bar.

New styling page in admin: You might find that your colours or logo have changed slightly, we've done to abide by accessibility regulations but if you would like to change those we're giving you tools to tweak things while checking the accessibility still passes.

A new red notification is showing on the home page for webcasts happening now, prompting the user to check your live content.

The webcast overview on home page has now been switched to the left by default as it is the most important content on the page. If your home page has been customised we have left it as it was but we recommend this new look as nowadays end viewers are used to see video content on the web and do not really need explanation.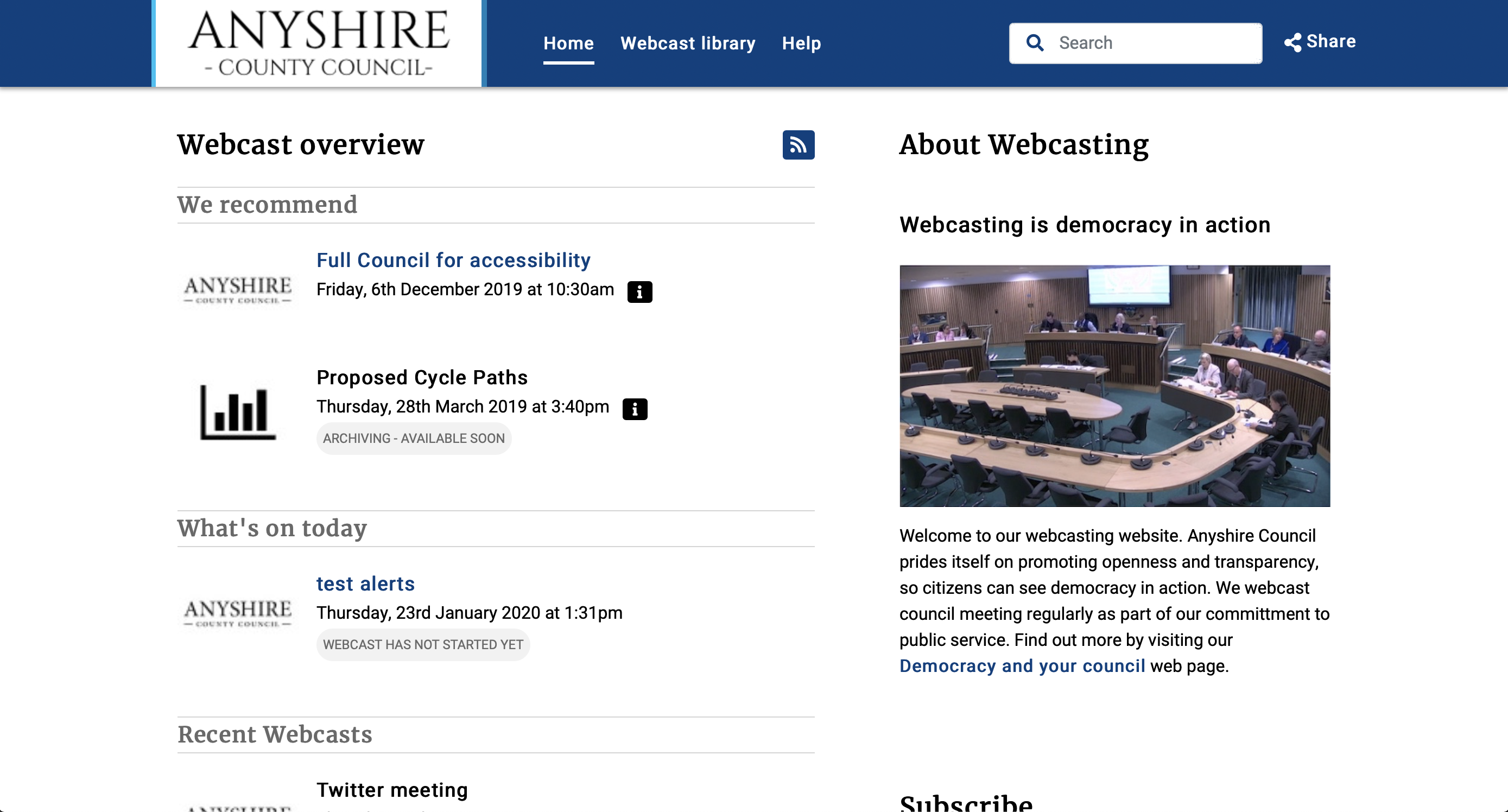 The agenda now has its own tab which means end viewers have more space to look at other content like slides, profiles, maps, transcripts etc..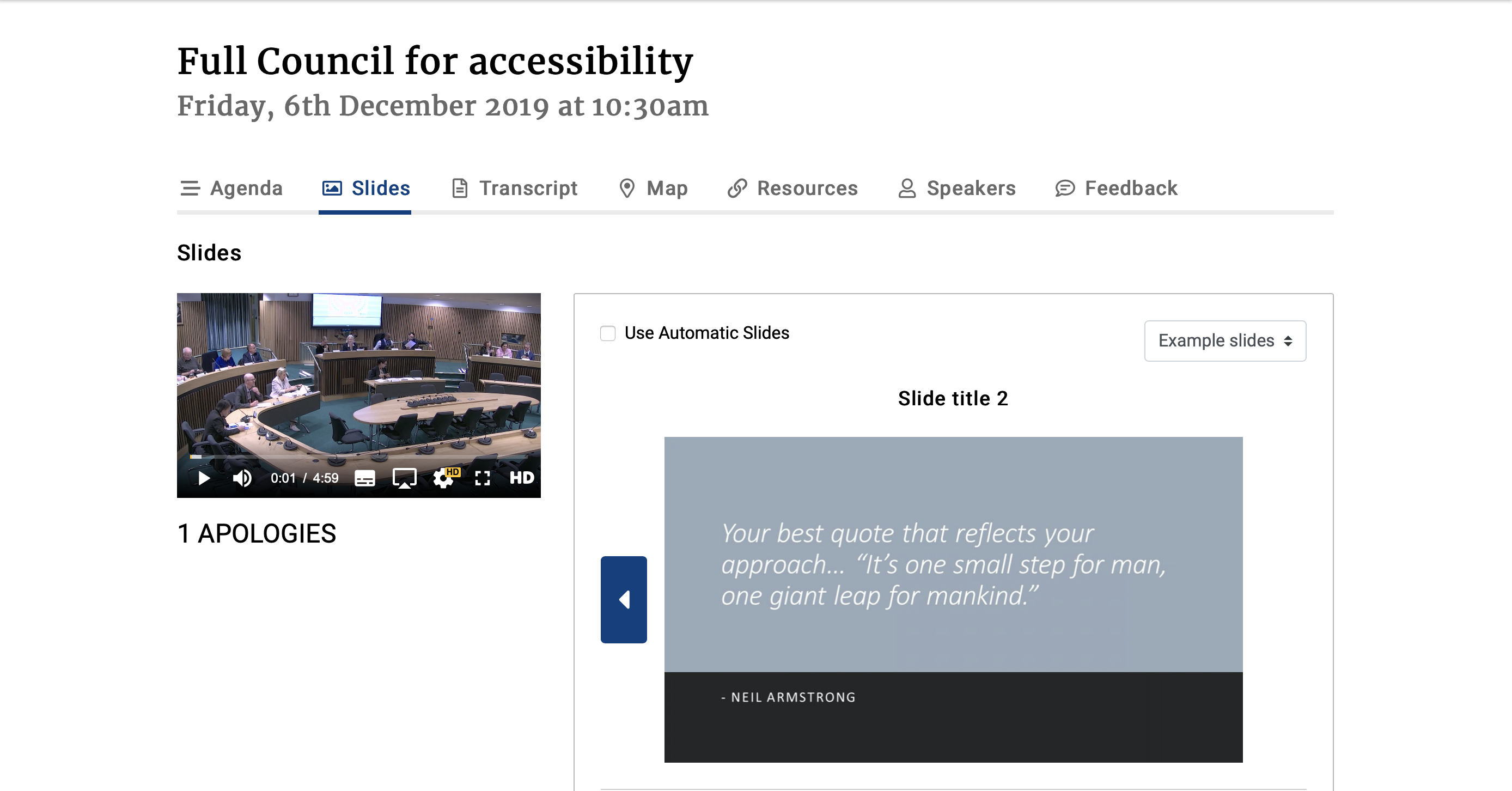 The player text is off by default. We feel that end viewers are accustomed to video websites now so we turn it off to save space and be able to concentrate on the video and other content but it is possible to turn it back on in the admin area (go to Settings on the top right then General and Player Text On/Off)
Easily upload your own images to the welcome page or player text.
Engagement tools:
New filter per tag (category) for alerts: We've improved the automatic Twitter alerts which means you can send out custom messages for different types of meetings like Full Council or Planning. Set it up once, get tweets or Facebook posts sent for every webcast automatically to attract followers to your content.
New "Follow and share" widget for your home page: easily add the council's social media links.
New "Useful links" widget for your home page: easily link to council or mod.gov/CMIS sites.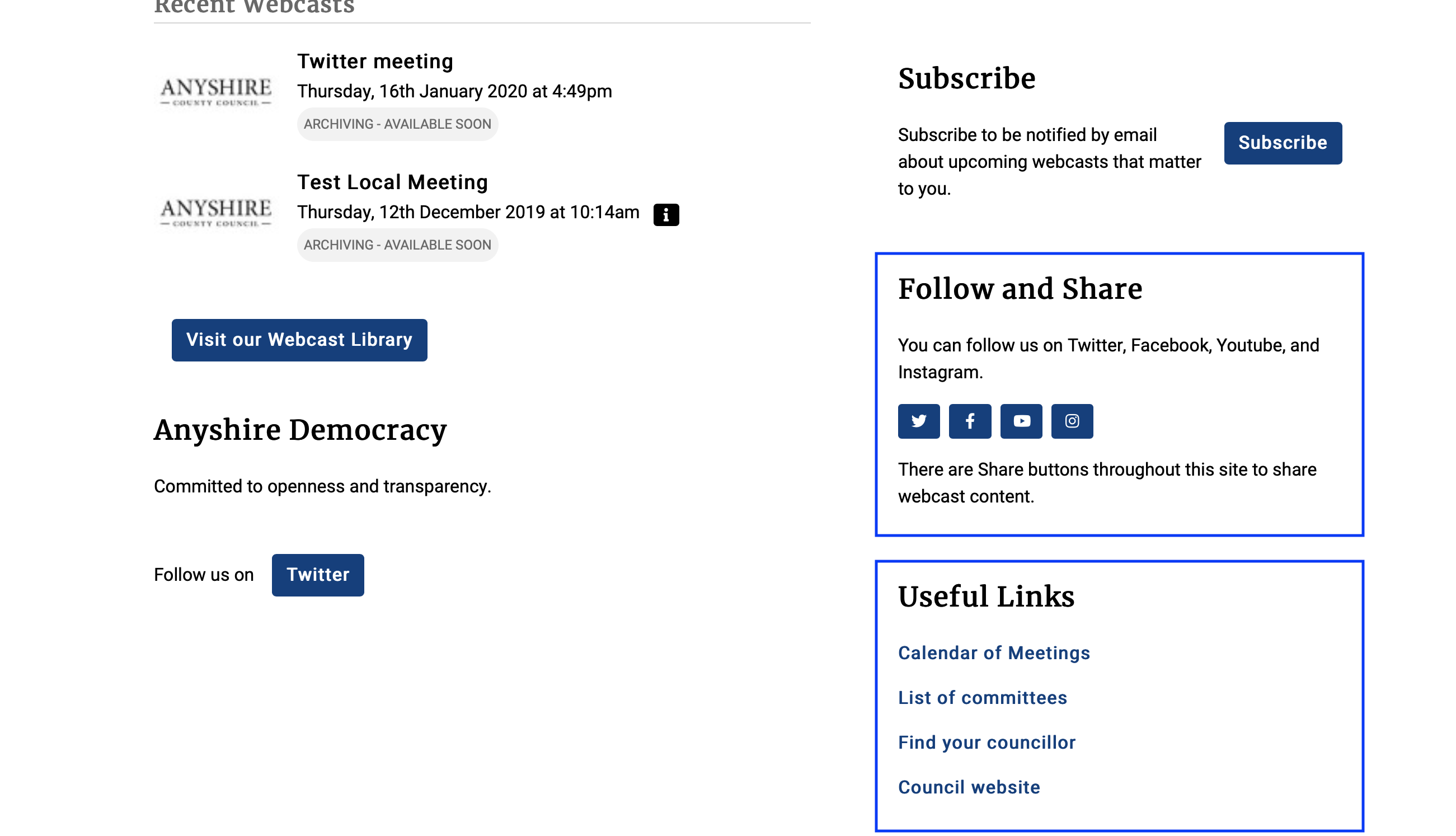 New Twitter tab for the player: showing hashtags or posts from a specific account or search term complete with images and videos.
New Disqus tab for the player: engage with viewers with a communication channel from Disqus (to use it, fill in the Disqus Identifier in the social tab of the meeting edit page in the admin).
We hope you enjoy these new features and we welcome any feedback so please contact our Customer Support: Email: helpdesk@public-i.info Phone: 01273 821282 (option 1)
Thank you, Your Public-i Connect Product Team