Two weeks ago was the highlight of the local government calendar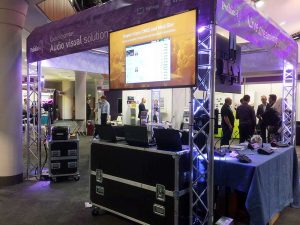 This year, the LGA conference was held in Birmingham and our stand incorporated demonstrations of the main conference (microphone) systems for Council Chambers (including Televic Confidea, Shure MXW and the Bosch Dicentis), our webcasting kit (Connect) and our new transcription and subtitling services.
For Public-i, the LGA conference is far more than a business development opportunity. So many of our clients, collaborators and suppliers are in the same place at the same time. We get to hear about developments directly from the ground, and that's invaluable to us. What's more, we had several clients simply come to ask for guidance. We're the experts in local authority AV and Webcasting, and we're thrilled to be asked for advice and help.
There were two big themes that came up again and again in our conversations: accessibility and value for money.
Accessibility
Councils are looking for ways to increase the agility and accessibility of their work. Consequently, there were some productive conversations around public participation. Several clients we spoke with were actively exploring ways of making their work more accessible to members of the public, who would otherwise not engage with the Council. Technology is the great enabler in this respect. We got some fantastic feedback about our transcription and subtitling feature: and many officers we spoke to were really excited about the options it opens for greater accessibility.
It's not just external accessibility, however. We also spoke with clients who are exploring ways of increasing accessibility for members, too. Rural councils in particular struggle to get all of their elected officials in the same place at the same time. Councils of all shapes and sizes struggle to facilitate members' personal and work commitments with council business. Remote working is one of the ways these local authorities are exploring to improve accessibility to these members.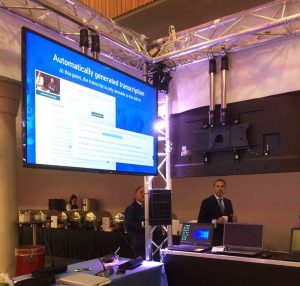 Value for money
For LGA veterans, it can feel like austerity has been a theme of the conference for time immemorial. However, ten years after the start of the recession and with Brexit imminent, local authorities are still battling to do more with ever shrinking budgets. Digital is a natural way of doing this: which is why our aims ally so well with the digital strategies of local authorities. Councils are not simply looking to cut costs: they're looking to do things in new and innovative ways. The officers that we spoke to were especially interested in using AV to save money and deliver enhanced benefits.
For example, we spoke with a handful of officers who are currently hiring in audio-visual systems several times a year. They were surprised how inexpensive it can be to buy this sort of hardware rather than hire it. Moreover, they were keen to hear about how AV hardware can be a revenue generator in its own right. We had conversations about how clever audio-visual integration can save time and resource: and doesn't necessarily involve replacing everything already in existence, but can also be about making existing hardware work more efficiently.
The local government sector is undoubtedly facing fresh challenges, with Brexit just over the horizon and ever-increasing pressures on services. However, the overwhelming feeling from the LGA was one of optimism and innovation. We are proud to work alongside local government and of our reputation as the leading provider to this sector. We're looking forward to next year's conference already.
If you'd like to learn more about how Public-i can support your digital strategy in these and other ways, please contact us.