We hope that the summer break has been beneficial for our clients and users. Here is some information on the latest developments at Public-i:
Simple live streaming from Teams, Webex or Zoom to your Connect site 
We've updated our webcasting system to make it easier to stream live from third party conferencing software. Even though Public-i has a tailored video conference system, Connect Remote, some of our clients still want to use Teams, Webex or Zoom.
Being able to live stream easily from these platforms means that you can continue using our Modern.Gov/CMIS integration for linking your meetings to the public. We can also archive your meetings automatically from our servers without you having to send us video files.
From now on, there is no need to use two PCs to live stream your meeting via Connect from Teams, Webex or Zoom. The process is especially easy for Zoom or Webex: simply copy a link from the Connect admin page before the meeting starts and press a button to start streaming.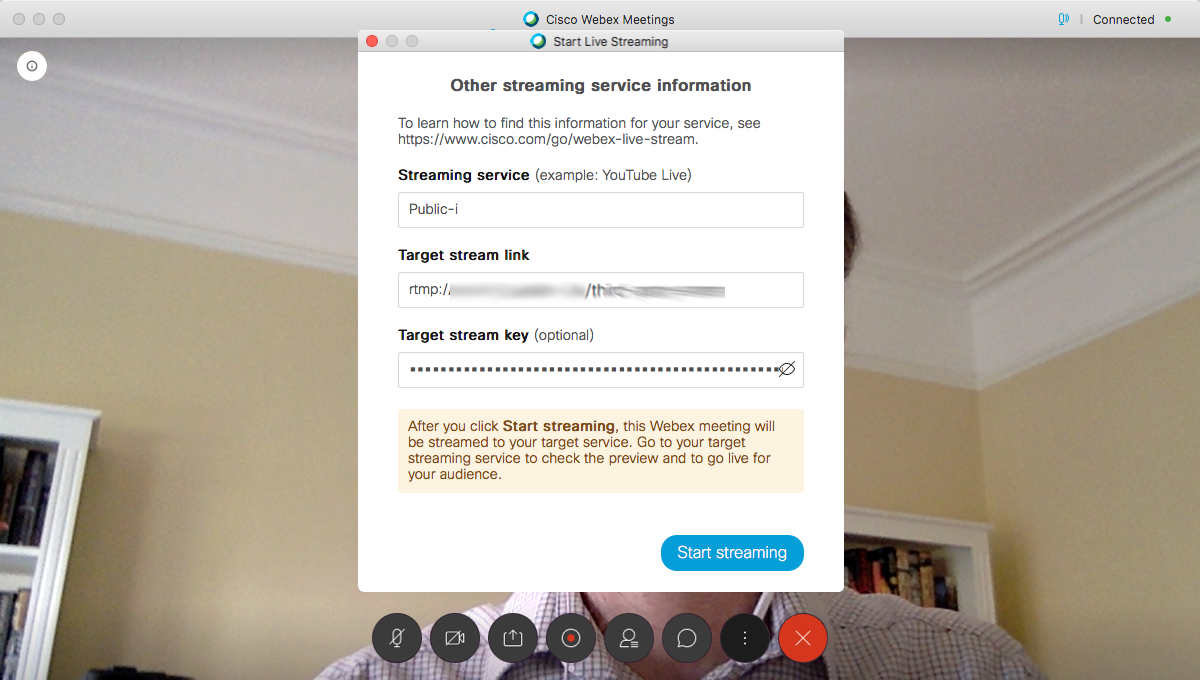 Start Streaming your meeting in Webex
For Teams you have to use an extra bit of software alongside Teams called OBS, but the process is still straightforward. Copy a link from Connect admin, set OBS to capture your screen and press a button. OBS will then stream to the Public-i platform:
Start Streaming button on OBS to capture Teams
To enable this new feature, please take a look at the documentation below and talk to our Helpdesk to arrange set up:
For now, you can only start and stop meetings using these third party services. Pausing and using live agenda points is not yet possible.
Pause a live webcast in Connect Remote
Connect Remote (our video conferencing software) is completely integrated with our webcasting platform which means live streams can be started with the click of a button.
Connect Remote users have been requesting the ability to pause the webcast when there is a break or a private agenda item. We're pleased to say that this feature is now available: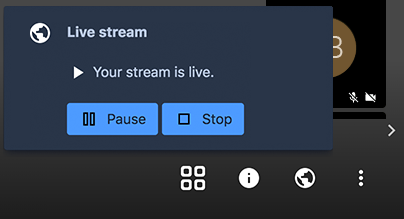 Pausing a webcast in Connect Remote
A large part of August was spent improving Connect Remote architecture and carrying out load-testing for larger meetings. We're happy to say that the participant limit has now been increased to 100 participants per meeting. Bradford MBC recently held a successful meeting using Connect Remote with 90 participants, including two votes. This is something we will continue to build upon especially for tablet users and users with low bandwidth.
Roadmap and user groups
Our priorities at the moment are creating a lobby feature in Connect Remote and perfecting our hybrid solution.
We have also organised two online user groups on 24th and 29th of September and we had a fantastic response! They are now fully booked but you can still have your say as we will webcast the meetings and have a live Q&A. Contact your account manager for more information about the events and how to get involved.
Here is our tentative roadmap for the next few months:
Phase one (mid to late-September) – Security
Lobby for adding/removing speakers or members of the public
Fixing issues with screen sharing not always showing on iPad
Phase two (mid-October) – Meeting accessibility
Enabling participants to join meetings via telephone
Booking hybrid meetings
Phase three (late-October) – Hybrid integration
We are working towards the consolidation of queue management systems so that a chair or clerk can manage both remote participants and those using the conference microphones in the chamber. They will also be able to start a vote across both sides.
Phase four (November) – Voting and agenda improvements
Moderators will be able to see the vote status for each participant
Sharing vote results to participants and the public
Sending agenda points live during the meeting