At Public-i we are always working with councils to understand their needs. After listening to councillors and meeting clerks, we have added the following features to Connect Remote, the video conference solution for local authorities:
Speaker names appearing at all times:
It is important for participants as well as the public to understand who is speaking. That's why we are now showing names of speakers on the full view (for the participants and the public webcast).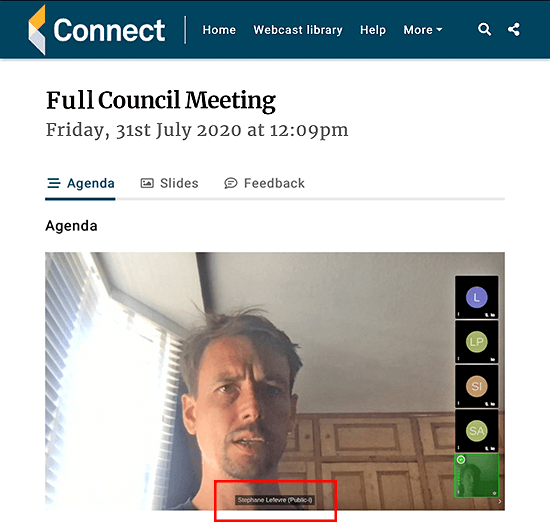 Live webcast showing Connect Remote spotlight view

The names are also showing on the tile view at all times.
We have made the tablet and laptop experience behave and look similar.
We have added numbers to the order of the hand up, this is useful to see where you are in the queue as a speaker. The order and the numbers can be seen on both views in any device.
Automated meeting booking and integration with Mod.Gov/CMIS:
You can now book Connect Remote meetings automatically using our Connect Webcasting admin area that democratic service officers know very well. You can set a global moderator email address (see this guide for more info) or set a different one per webcast. The moderator will automatically receive meetings details and be able to share them with participants.
You can also set meetings to be created automatically with Mod.Gov/CMIS. We added a new Knowledgebase article explaining this new feature, you can find it here: Connect Remote: Booking a meeting
Roadmap
As the month of August will see fewer meetings, we won't stop here and we're already looking ahead at future development:
Phase one (mid-August) – pause webcasts
Large meetings: we are creating internal tests so that we can improve the experience for large meetings.
Bug fixes: fixing issues described in the following article: Changelog for Connect Remote and known issues.
Pause and restart the meeting for the public webcast.
Phase two (late-August) – Security and 3rd party platforms
Lobby for adding/removing members of the public or any speaker
Live stream from Webex/Zoom/Teams without the need for an extra laptop.
Phase three (late-September) – tighter controls and further integration with Connect webcasting:
Participant phones into the meeting
Sending agenda points live during the meeting
Phase four (longer-term: hybrid integration):
We will be working towards the unification of queue management systems so that a chair or clerk can manage the conference microphone queue system in the Chamber along with the online speaker queue.