In the landscape of local government, the installation of Audio-Visual (AV) and meeting management facilities is a critical, complex and often confusing process. This comprehensive guide aims to demystify the process and help you think about which questions to ask when considering new installations or upgrading existing setups in council chambers and meeting rooms.
Section 1. Understanding Council Needs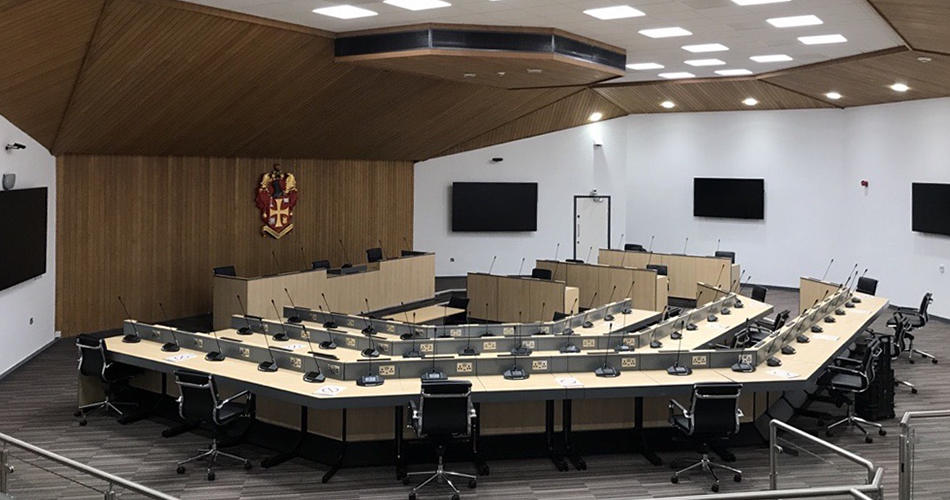 Space Assessment

Begin by conducting a detailed assessment of your council chamber or meeting space. Whether navigating the constraints of heritage buildings or designing for a modern layout, understanding your space is the cornerstone of a successful AV installation. There are so many aspects to consider, for example; where meeting participants sit and whether this is fixed or changeable, where the windows and doors are, or whether the room needs to be a flexible space outside of meeting times.
Creating inclusive environments

Consider the diverse needs of council members, staff, attendees and remote participants and viewers. Foster inclusivity by addressing accessibility requirements. This includes catering for people with visual and hearing impairments, physical accessibility needs or language translation requirements.
Understanding Your Operational Needs

Explore the specific needs of your council meetings including; electronic voting with the conference system, live consolidated result displays, speech timing management, and clearly displayed presentations. These elements are crucial for ensuring an effective and efficient democratic process. Consider where people speak from and whether there is a need to facilitate external speakers. Think about the meeting operators: who runs the meeting, and where do they work from?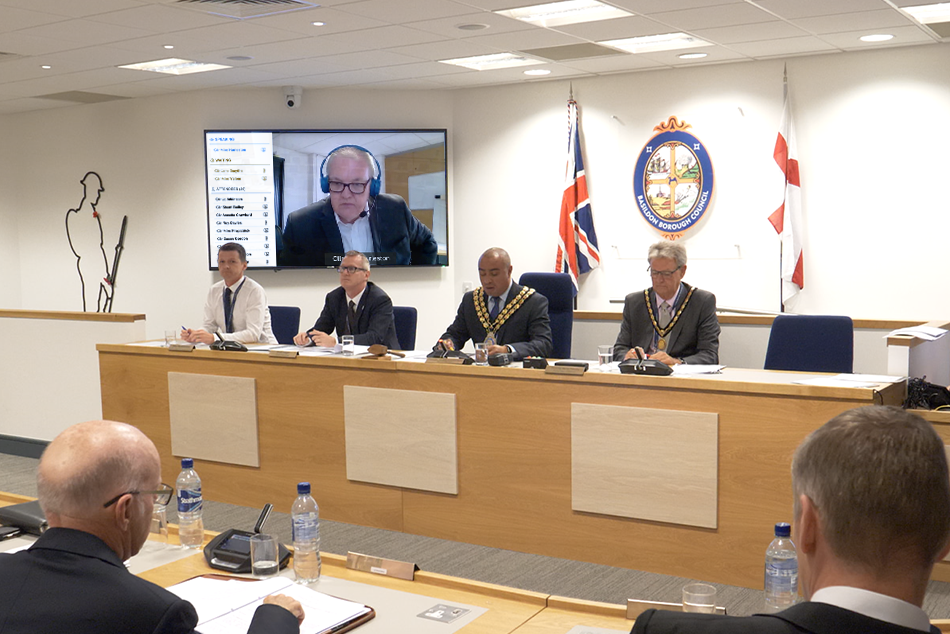 Your supplier will help you to understand more about all of these elements by conducting a thorough site survey. This will include practical elements such as the composition of wall material, as well as considering room usage. A thorough site survey will give you a full understanding of your requirements as well as your physical environment.
Section 2. Selecting the Right Equipment
When choosing hardware, the choice can be overwhelming. It's first vital to consider which problems you want the hardware to solve. Then, prioritise which features are "must have" and which are "nice to have". Budget will also need to be considered at this point. The right supplier will be able to talk you through these considerations and give you impartial advice, without pushing you to take the most expensive option.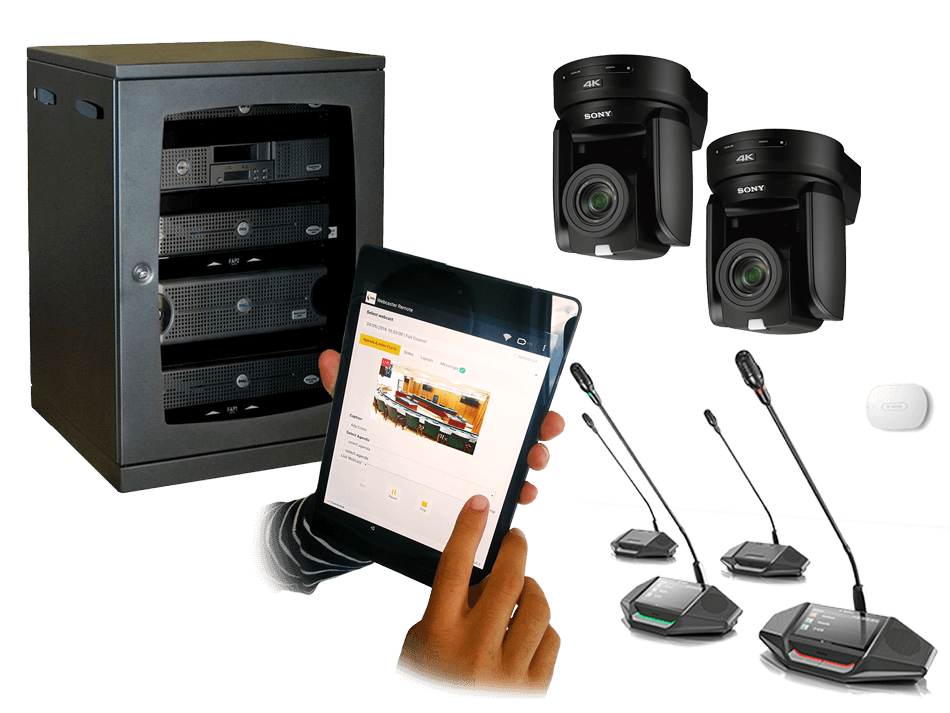 Audio Solutions

Consider the options for audio solutions. from microphones and speakers to conference systems. Think about the available options for hearing-impaired members and viewers. Explore voting, translation or dual-language capabilities: do you need any of these features? Who do you need to cater for in the room and remotely? How do your members use the current microphones and what (if anything) needs to change?
Projectors and Displays

There are many environmental factors to be considered when choosing what kind of visual equipment to install in your meeting space. These are things your supplier will discuss with you at the site survey. Prior to this survey, you should consider what information needs to be displayed in the room and to whom. Are there remote participants in the meeting who need to be seen by in-room participants?
PTZ Cameras

Consider including high-quality webcams in your spaces, especially if webcasting, remote participation, and hybrid meetings are on your agenda. Ensure that your main speakers are automatically captured with a professional front-facing headshot, without any distracting panning or zooming.
Section 3. Simplifying AV Management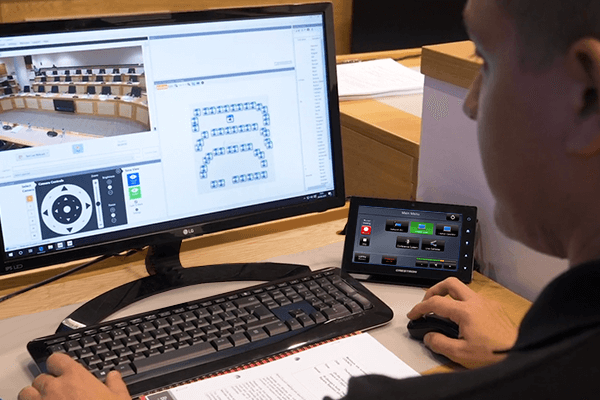 AV Management Software

Research the role of AV management software in simplifying operations, from controlling displays, speakers, and microphones, to even ambient factors like lighting and blinds. Consider whether these features would make a difference to the workload of meeting operators and to the overall efficiency of the meeting process.
Meeting Management Software

Explore the benefits of user-friendly meeting management software. Look for software like SpaceManager that simplifies meetings and offers control and oversight of meeting elements.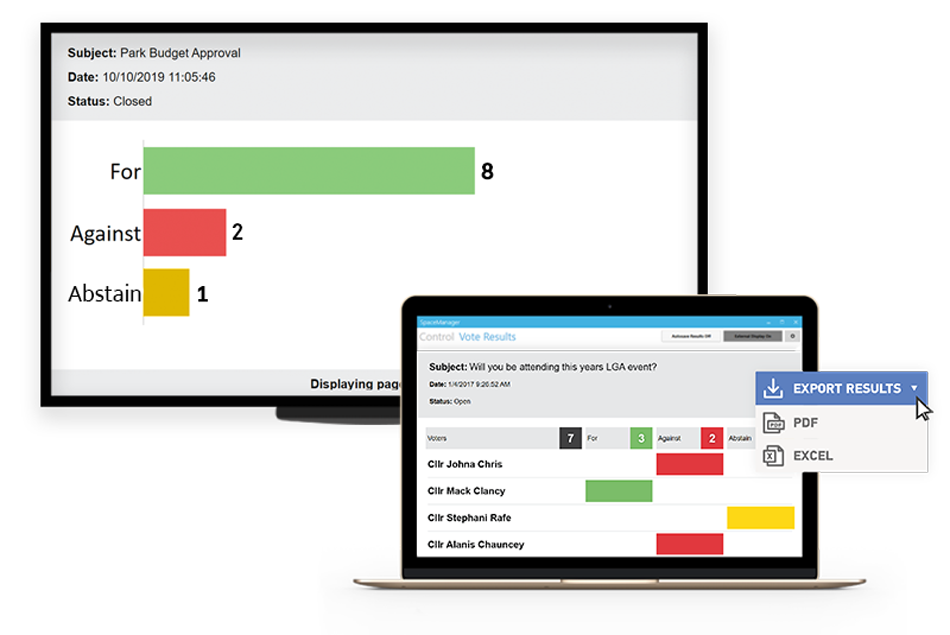 Section 4. Embracing Digital Transformation
Integration with Digital Platforms

Consider the potential of integrating AV systems with digital platforms, committee management systems and video conference systems.  Integrating in this way can aid collaboration and enhance efficiency, especially in remote participation and hybrid setups. By integrating committee management systems (e.g CMIS or mod.gov) with the AV system, all attendees can access all meeting resources without hassle.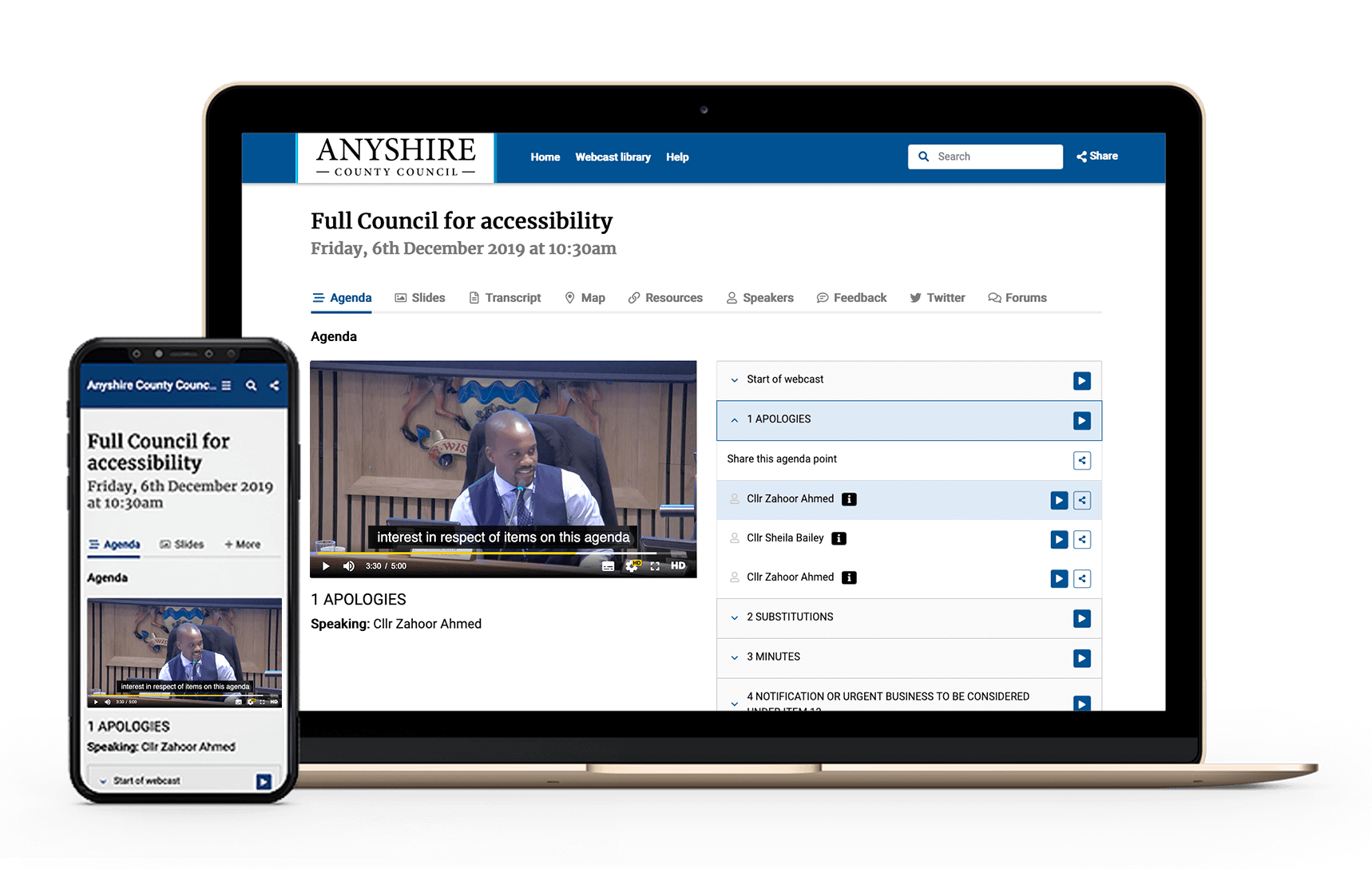 Webcasting

Think about introducing webcasting for meetings to promote inclusivity, openness and accountability. Webcasting democratises decision-making processes and can help address FOI requests, adding a layer of transparency to your council proceedings.
Section 5. Choosing the Right Partner for Success
Investing in Quality

While budget considerations are important, investing in high-quality AV installations ensures a reliable and future-proof solution. Quality is an investment that pays off in the long run. Again, consider which features are "must have" and which are "nice to have" and weigh this up against your budget. Factor in cost savings over time which will result from having less resource-intensive, more efficient meetings.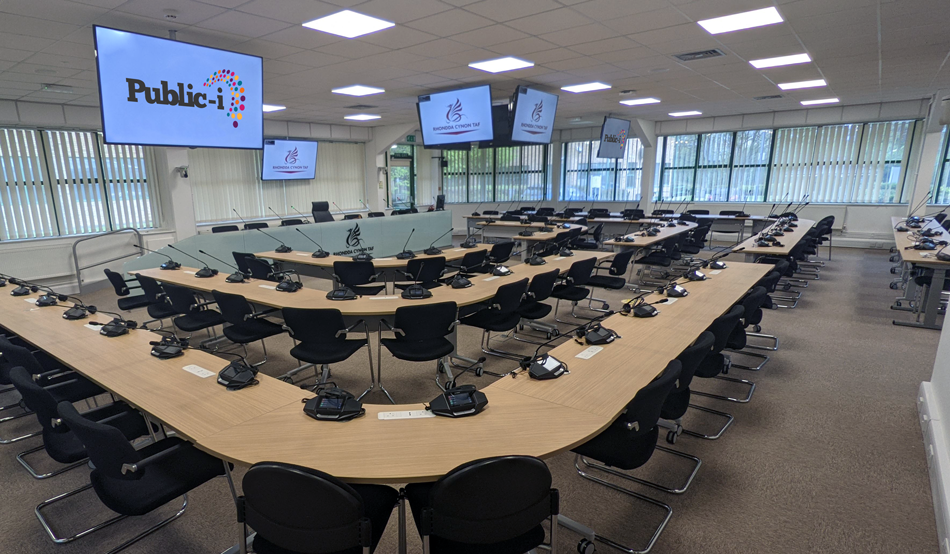 Comprehensive Solutions

When weighing up suppliers, consider which of them can offer which parts of your system. Look for a provider offering comprehensive solutions that meet your requirements in one place. Avoid piecemeal solutions that might not integrate seamlessly: these will often be resource-intensive to manage.
Ease of Use

There is no point in having a big, beautiful AV setup if it is a headache to use. Prioritise systems that are user-friendly. An easy-to-use system minimises training requirements and ensures smooth operation during critical meetings. Ask your shortlisted suppliers for a hands-on demonstration: ask as many questions as you can and make sure you satisfy yourself with all aspects of the proposed solutions. Crucially, make sure the end-users are involved in demonstrations: they are the ones who will use the system, after all!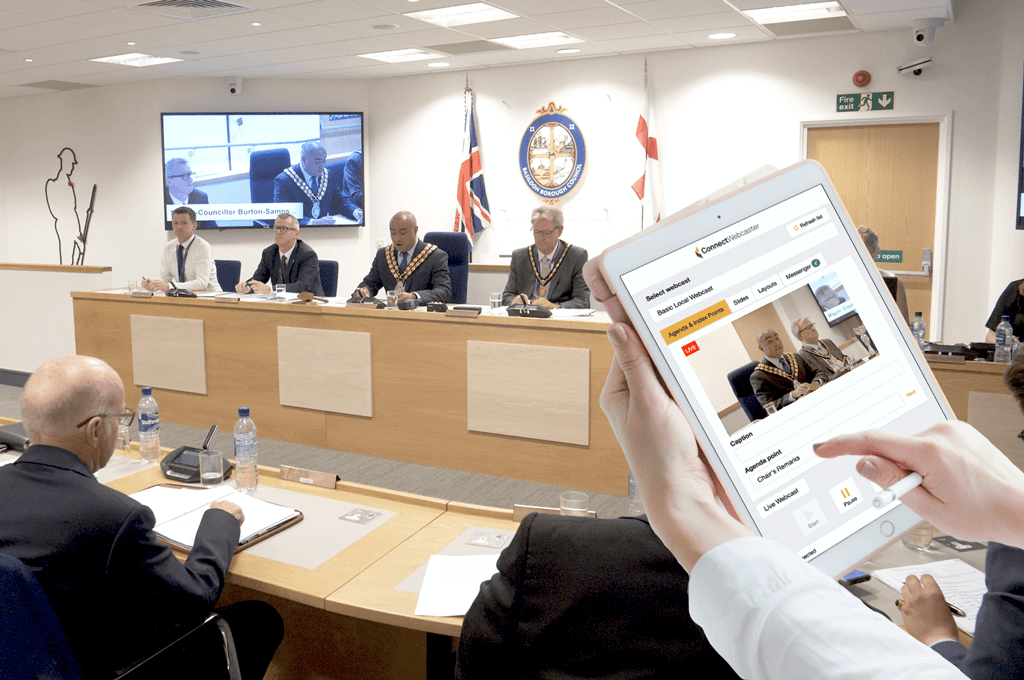 Solid Support Team

Assess the support and maintenance services offered. A dedicated and responsive support team is essential for troubleshooting and quick issue resolution. Find out what their opening hours and response times are, and ask to speak to existing clients.
Reliability and Experience

Choose a company with a proven track record. Reliability, experience, and trustworthiness are crucial for a successful AV installation. Seek out and review client testimonials. If you can, Feedback from other organisations can provide valuable insights into the provider's performance.
We hope this comprehensive guide has empowered decision-makers with the knowledge needed to navigate the intricacies of AV installations. As you embark on your AV journey, consider Public-i as your one-stop-shop for reliable, trustworthy solutions. With extensive experience in design, hardware provision, installation, management software, and full support services, we stand ready to elevate your council chambers to new heights.