At Public-i we get asked a lot about webinars, or our product Connect gets misinterpreted as a webinar system. I also personally get asked what the difference is between a webinar and a webcast? In fact it's really not that complicated, here is my take on highlighting the differences between the two disciplines.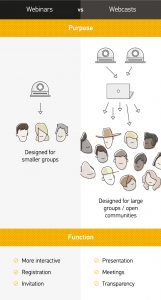 What's a webinar?
Webinars are typically set up for smaller group sizes, perhaps involving only a handful of individuals. They take the form of a specific topic or session generally presented by one person, offering and facilitating Q&A. They may also offer the ability for the audience to participate in a scratch board or whiteboard feature, meaning the webinar is far more interactive and personal.
Webinars are also designed for invitation and registration; the viewers have to be registered to watch and interact. This allows the webinar content owners to control and manage who has access to the webinar, they can target the webinar content to specific audiences, use them for marketing and lead generation.
What's a webcast?
At Public-i our Connect product is all about bringing your offline meeting to an online audience. Webcasts are primarily about presenting the offline meeting, conference or event to an open larger audience. Webcasts are for the best part not restricted, although they can be. They often have more than one video feed meaning they are more about the audiovisual experience, combined with presentations. It's about capturing the meeting and broadcasting it to a large engaged audience.
Webinars can be live but they are often recorded and offered on-demand. The main role of a webcast is to capture the live online audience as the meeting takes place. Interactive features can be available but often social feeds are used instead to integrate with the live content being broadcast.
Final thoughts
Both webinars and webcasts are about capturing and streaming audio and video through an online infrastructure, for me there's a distinct difference between them. If you want to engage a smaller group, market and gain interest around specific topics then a webinar product maybe for you, but if you're interested in reaching a wider audience offering a more transparent approach to your meeting then a webcast product is for you.
You can find out more about Connect here choose from our range of start-up packages or talk to one of our experts to understand how we can help you with bringing your offline meeting online.